Information
Satomi, el beso will be participating in the solo collection of world-renowned nail designer Nobuko Nagata as a costume designer!
The two incredible artists who captivated the world in New York expressed a new worldview at the Otsuki Noh Theater, a stage that symbolizes Japanese culture.
Satomi Takakura, a costume designer, will participate in nail designer Nobuko Nagata's solo runway show, NOBU Collection, which will be held at Otsuki Noh Theater (A7, Umemachi, Chuo ward, Osaka) on Monday, November 20, 2023.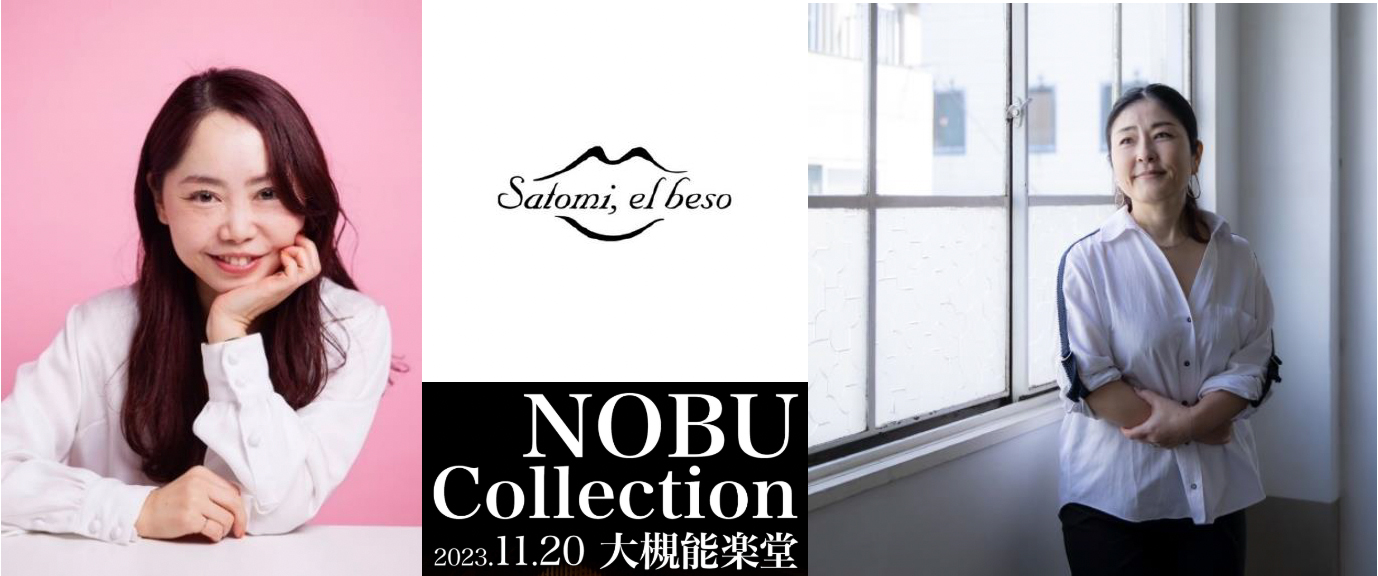 ◆ Nobuko Nagata
Based on the philosophy that "fingertips reflect a person's heart," Nobuko Nagata makes full use of the techniques and ideas she has independently acquired and takes to the world stage with her expressiveness and worldview that go beyond the boundaries of traditional nail art.
Her work is delicate but dynamic, old-fashioned but innovative. They beautifully shine with light, in the meantime, create attractive shadows of darkness, embodying the infinite possibilities of nail design.
NOBU Collection website
https://soukashi.com/NOBU_Collection/hana/
◆ Satomi, el beso × NOBU
Satomi and NOBU met through Satomi, el beso 's crowdfunding to participate in New York Fashion Week. The social media community that supported Satomi's challenge and helped to connect NOBU, who had already succeeded in the world's first solo nail runway in April 2023 through crowdfunding. Satomi believed in her own instincts and offered NOBU to work together in New York.
The runway at NY Fashion Week held in September 2023
https://youtu.be/ZEuMBhPlvpg?si=fgfsSvcW1n1utYaR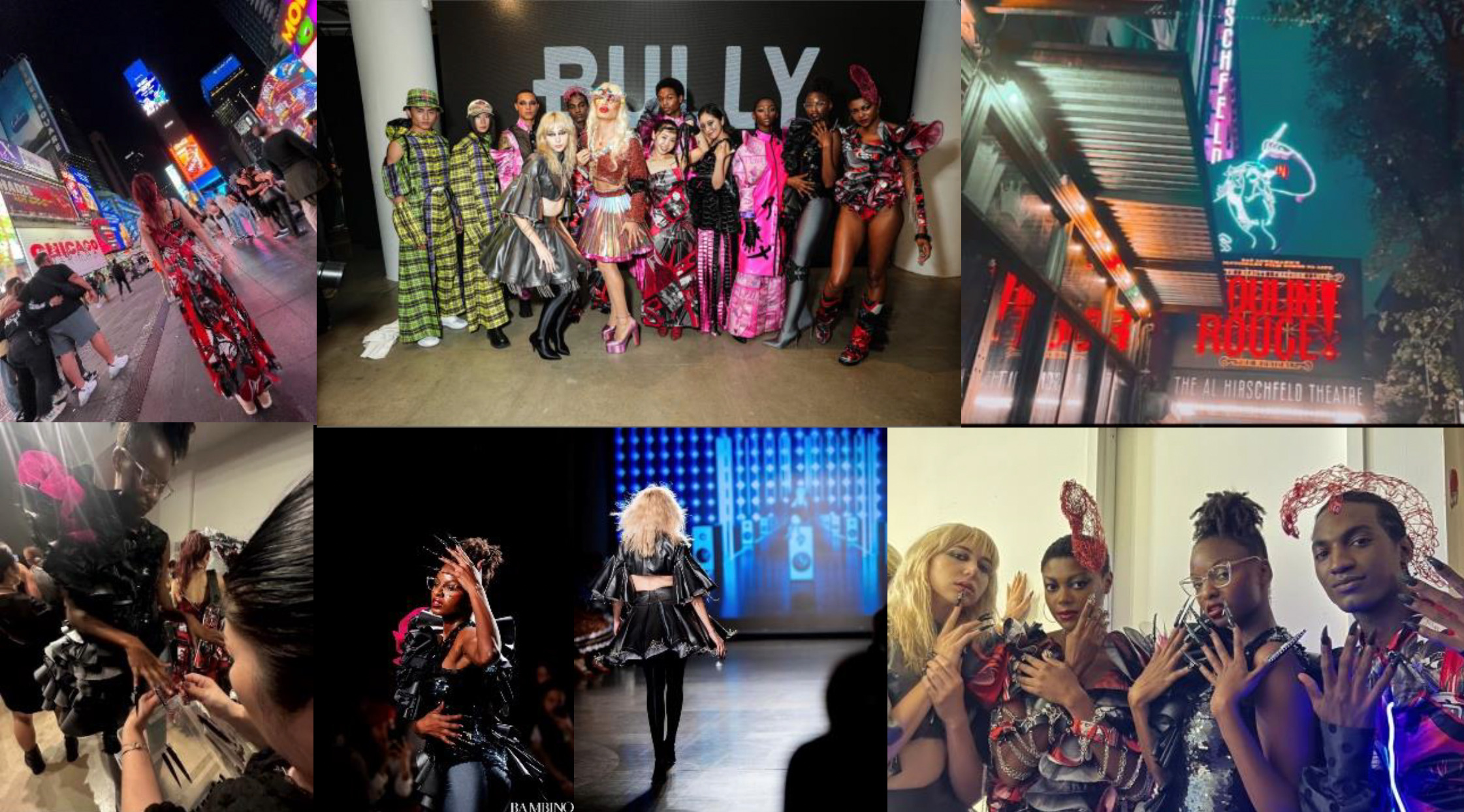 (Photo Credit: PMC / Jared Siskin)
◆ What the two creators have in common
Costumes and nails are often seen as a part of creation, but the two creators use their own tools to brilliantly express the world beyond them. Both works have a strong presence on large stages and screens. Then, when you get close to them, you will be overwhelmed by their attention and beauty to the details.
Satomi, who believes that clothes could shine only when someone wears them, and NOBU, who believes that nails could finally have lives only when they are on the fingertips of real people, have a lot of common philosophies.
◆ NOBU Collection
NOBU Collection is a nail runway by Nobuko Nagata, a member of the nail designer group "Soukashi", which performs nail art in the world's fashion scene.
The first show, which was the world's first solo nail runway show, was held at Koshoji Temple in Kyoto in April 2023 and was a great success. For the second performance in this time, the Otsuki Noh Theater in Osaka was chosen. Noh is a Japanese theatrical art form that has been handed down through generations and been labeled one of the worlds oldest performing arts. It has long expressed people's emotions through "postures."
On this traditional stage, expectations to see what kind of chemical reaction will be created between Satomi's costume and NOBU's nails are high.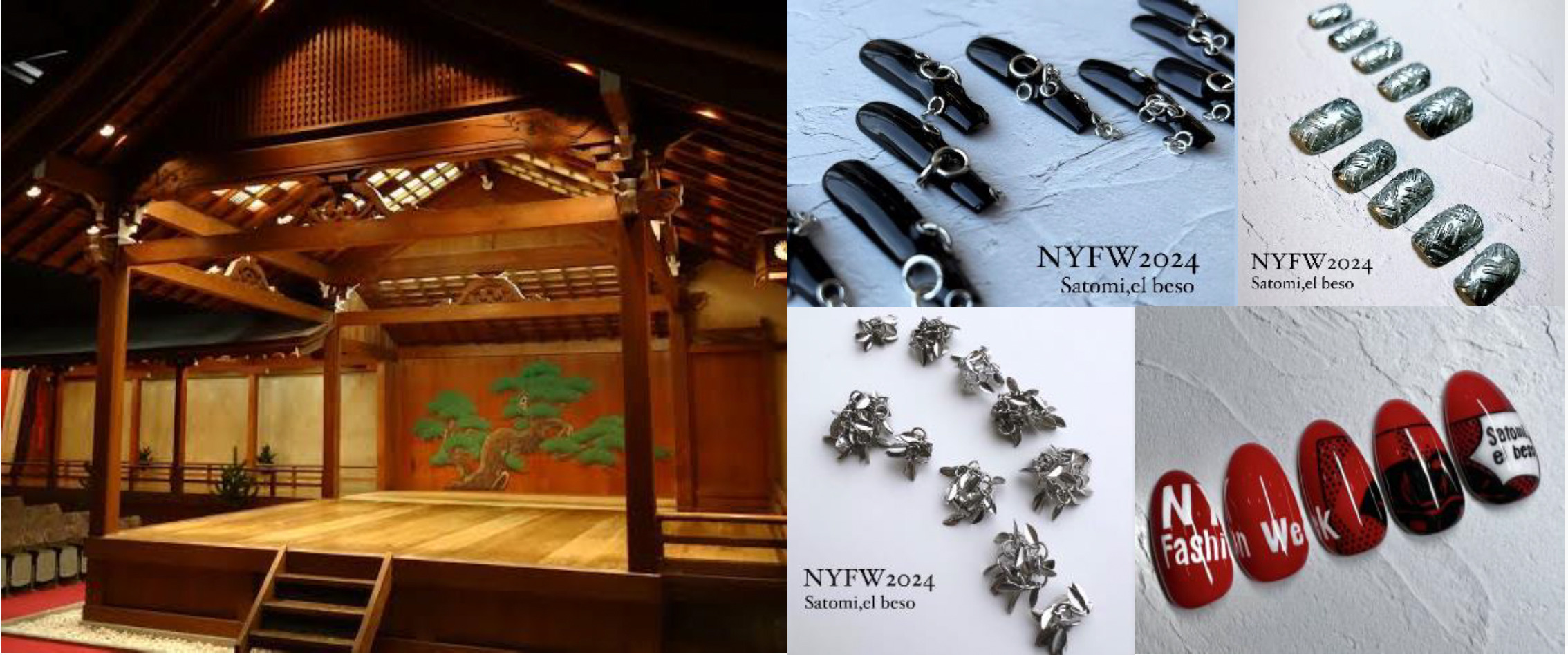 〈Satomi Takakura〉
Satomi Takakura is a chief designer of costume brand "Satomi,el beso". She learned techniques from an elderly gentleman she met at a cafe and began her career as a clothing designer. Since then, she has been working as a costume designer for 20 years, producing a wide range of works including stage costumes and corporate uniforms. In recent years, she has been mainly creating costumes for idols. In April 2023, she successfully hold her runway show in Vancouver and won the invitation to New York Fashion Week.
In September 2023, she made her debut on the New York runway and attracted the world.
<NOBU>
Born in Kobe, Hyogo in Japan. A nail designer for nail brand "NOBU". The owner of nail salon Le Ciel. Her career as a nailist is 15 years.
In 2019, despite the language barrier, she went to see a Broadway show by herself. At that time, her nails were recognized by a Tony Award-winning actor, and she started to pursue her career as a nail designer overseas.
Created the world's first nail runway and participated in the Hollywood Film Festival, the Venice International Film Festival, and the world's four major collections. She brings out people's inner brilliance with her expression beyond the boundaries of nail art.
〈Elbeo Corp.〉
A company which mainly operates and manages Satomi el beso, a costume brand. Based in Tokyo, we propose and produce unique clothing for both individuals and companies, and domestically and internationally.
We are currently looking for sponsors and supporting companies to exhibit at overseas fashion shows. For details, please visit the website below.
https://satomi-elbeso.com/information/2216
◆For inquiries and business offers
Fumie Harada
PR of Satomi, el beso
Email: elbesoinfo629@gmail.com